Meet a Trojan: Brittany Camp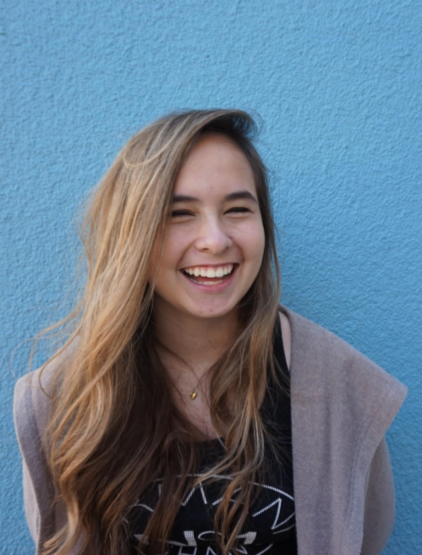 Senior, Brittany Camp is a funny, charming, and beautiful woman with big dreams for the future. While going to TL, she has been able to find herself  and even earn a new nickname-Britt.
Before Britt was born, her parents were struggling with drug addiction, leaving her without a stable home. Her grandmother adopted her when she was around 2. Britt loves her grandmother, but finds it difficult to bond with her due to the difference in age and interests. Because of this, she found herself drawn toward computers as they allow her to escape and branch out to people her age she wouldn't have met otherwise.
Britt was about 6 years old she was given her first laptop, which she used to fill the extra time she had. After receiving it, she searched constellation maps online, learned Greek mythology, and met new friends through different video games. During her time playing those games, she uncovered different online clans and guilds, the communities and factions that gave her the opportunity to discover graphic design and online photoshop. She was able to create different graphic designs for the games she played, such as Roblox an online game where players decide their design.
Britt started designing for her Roblox clan which is mainly centered around giving the players a chance to create the game how they want it to look when viewed by other clans playing against them. Each clan has a leader and different sections of players who strategize and play against other clans online. For her clan, Britt had discovered the more mature aspect of Roblox, which is mainly for 13-24 year olds. Since there was a high demand for different graphics for the game, she created her clan's military tier, which she based off our very own military. She created a development tier, veteran tier, leadership tier, combat tier, and grand metals. She also created the clan rewards, logos, and thumbnails.
While working on creating different designs for games, Britt also became interested in taking aesthetically pleasing and meaningful pictures during her free time, as well as for her graphic design class at TL. Britt has many different photographs that depict views of wildlife and nature. Last year, in her graphic design class, after 4-5 drafts, Britt was finally satisfied with her mast head design for the TL news website, and is now the current design.
Britt also decided to pursue philosophy as it gives her the needed tools to examine different backgrounds and to fully understand what she couldn't before about herself and the natural world around her. In her junior year, Britt thought that Nursing was her career path since it provided a "secure and stable job path." But, when looking through different colleges, she couldn't stop thinking about philosophy. She felt obliged after taking Mr. Tow's philosophy class to pursue what she had grown to love and that was it. Brit felt that "the most room for growth and discovery was in Philosophy, because most questions about our world have been answered already or are on the way to being answered in fields of science and math,…". Ever since taking Mr. Tow's class, Britt started to create her own questions to answer, "What is the best government and economic system for our increasingly progressive world? What truly is inequality and how detrimental is it to the upkeep of a country?" And finally, "How might education be better formulated to encourage critical thought of the information fed to us?" She believes that "…in our current political period of massive social change, if we truly want to progress and move forward, we need thinkers as well as engineers and doctors."
Currently getting ready for college, Britt's on her way to move on and start her new life studying and learning more by sending in many applications to different UC's such as UC Davis, UC San Diego, UC Santa Barbara, and much more. She wants to major in "Political Science and Philosophy or going on a totally different career path as a Professor, Attorney, Journalist, Teacher in High School, or something in the political sphere." While in college, Britt explained that she plans to take internships along the way to explore all the choices she has or ones that she wouldn't have imagined taking.