The Fall of Ye
November 7, 2022
Grammy Award-winning Rapper Kanye West, who now goes by Ye, has recently made multiple antisemitic comments on Twitter and has been using his platform to make insensitive comments and arguments, many of which regard race, that has destroyed his business power as well as speaking on sensitive topics in the media, which in turn have impacted the public hurt those who feel targeted by these statements. He has been using the extreme influence his platform has to speak out about controversial topics, where he also mentions abortion rights, and makes false claims about Planned Parenthood, and in an interview with Lex Fridman, an MIT research scientist, Ye stated the organization is a conspiracy by "Jewish doctors." All of these statements are on topics that are heavy and sensitive, enlightening the media and public to also spread and further follow Ye's arguments.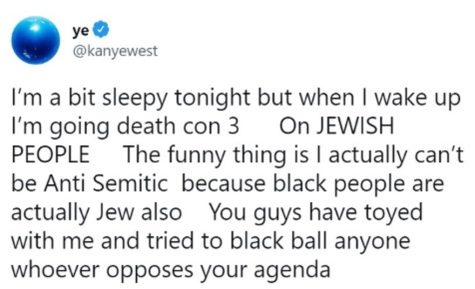 A few weeks ago during Fashion Week in Paris, his controversy began. He was pictured wearing a "White Lives Matter" shirt at the show. His Instagram account was restricted after accusing Sean Combs of being controlled by Jewish people, and he then went onto Twitter and posted a series of remarks attacking Jewish people. One of the comments included Ye saying he would go "death con 3 on JEWISH PEOPLE." Shortly thereafter, as a result of posting these racially motivated comments, his account was restricted on Twitter and Instagram because the comments violated their policies; however, he is currently still restricted on both social media platforms, but he is able to post.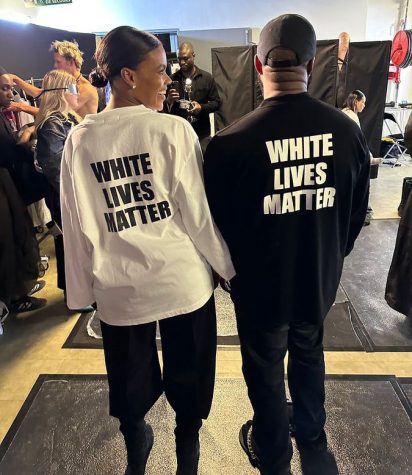 Ye's comments have received various types of feedback, including inspiring white supremacist groups to protest, such as in Los Angeles, where a group of demonstrators hung a banner over Interstate 405 displaying their support for the rapper, with remarks such as "Kanye is right about the Jews." Ye's recent actions have prompted fallout from existing corporate deals with many different brands, such as Adidas, who decided to terminate their partnership. Ye then voluntarily ended his contract with Gap. Balenciaga has also chosen to end their partnership with the reason for this termination being that they would not tolerate or support this sort of racist behavior. The Creative Artists Agency, or the CAA, is the talent agency that previously worked with Ye as their client. The CAA has chosen to terminate their contract based on Ye's antisemitic comments. 
Recently, Ye has been making statements on the topic of George Floyd's death, which occurred in 2020. Although Ye previously donated $2 million to the family of George Floyd, he has begun making remarks on various podcasts, such as the Drink Champ's podcast, and he wanted to "apologize" for false statements he made about Floyd's death. Roxie Washington, the mother of Floyd's daughter, has recently announced that her legal team will be suing the former rapper for $250 million for harassment, misappropriation, defamation, and infliction of emotional distress, according to the LA Times.  
Sources close to Ye have also come out and admitted that he has a history of "admiring" Adolf Hitler. In the wake of Ye's controversy, an executive who worked for Ye, along with many other sources close to the public figure, explained that he praised Hitler and that he believes Hitler and the Nazi Party achieved great things for the Germans, said an article from CNN who spoke with an anonymous business executive close to Ye. The article also mentioned he supposedly wanted to name an album after Hitler and also admires the Nazi leader's ability to accumulate so much power. Many issues have arisen from this, and Ye claims he cannot be antisemitic because "black people cannot be antisemitic because they are also Jews." Not long after, Ye returns to his antisemitic rhetoric.
Ye's decision to spread this hateful message is inspiring others who are influenced by this behavior, including white supremacists. Ye also has mentioned he feels no remorse, even despite all the consequences he has seen resulting from his actions and words. As a result of Ye bringing this topic back to light, he is normalizing this idea of antisemitism and showing potentially dangerous individuals that this is 'okay'. "Antisemitism has been on the rise the last 10 years, and Ye saying whatever he wants is a dangerous thing," Terra Linda teacher Alex Robins says.
The explicit comments have created chaos all across the nation, because of all the influence the rapper has. His continuous appearances on podcasts have seemingly fueled his behavior, and he keeps building on his very racist and antisemitic views. His comments have caused distress nationwide and had harmful effects on everyone.