What Are People Wearing at Terra Linda?
Clothes are one of the most accessible and intricate ways of self-expression. They give us identity and let the world know what we believe and stand for. Over the years, communities of fashion lovers have started a trend on the streets of New York and London that soon broke worldwide. "What are people wearing in…" videos on Youtube and TikTok rake in millions of viewers. The concept is simple, on-the-street interviews that ask people the simple question, "What are you wearing?" It is the only time that we applied this to the "streets" of Terra Linda High.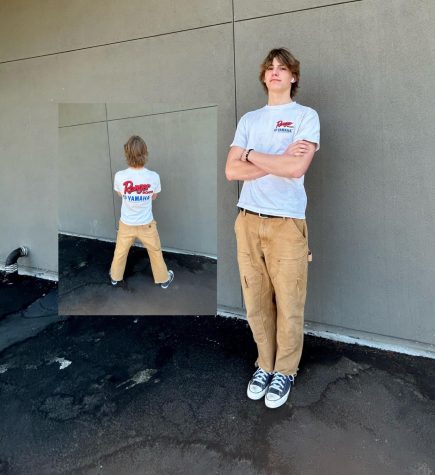 Will is wearing a pair of dark blue Converse Chuck Taylor 70s, faded Carhartt Double Knees, and a vintage Yamaha Ranger Boat T-shirt.  "So every month me and my friends like to go to the Alameda Flea Market and I found the shirt in a 5 dollar pile," Will explains. "Personal style for me is a way to express myself, it's a way to look good, feel good. The process of looking for clothes and putting outfits together is really fun for me." Will's friends have been his biggest inspo. "Before I became friends with them, I didn't really dress well or didn't really pay attention to how I dressed, but after seeing how they were dressing, they got me into clothes, they took me places to buy the clothes, they got me into thrifting. So I'd say my friends, probably Leo and Noah have to be my two biggest style inspirations." Among the myriad of wild and subtle clothing trends, Will's least favorite clothing trend is short sleeve crewnecks. "Those vintage crewnecks that people are starting to wear, but they cut them into short sleeves. No matter if they layer them with a long sleeve or anything I just don't like them."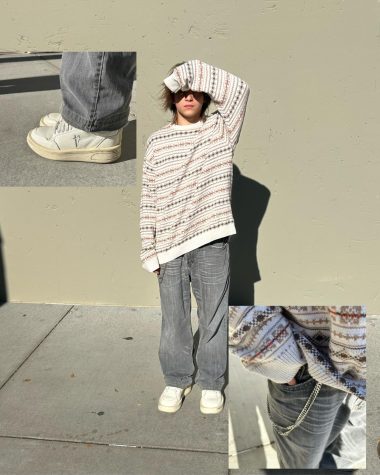 Cade is wearing a Ralph Lauren Polo knitted jumper, gray 569 Levis, double wallet chain, and Rick Owens DRKSHDW X Converse TURBOWPN shoes. Cade idea on personal style is short and sweet: "trying to look as cool as possible and doing whatever you want." Cade gets inspiration from many things, including his close friend. "Definitely from Alex Sutter, he stands out. I get a lot of inspiration from fast food worker uniforms. I think they look pretty cool." Cade's least favorite clothing trend was Panda lows, an infamous color way of the Nike Dunk. "They are the most basic dunk you can buy. Dunks in general are overhyped."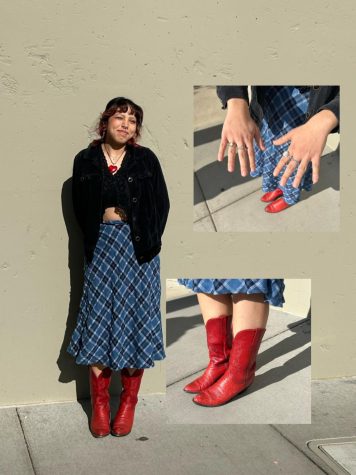 Bella is wearing thrifted red cowboy boots, thrifted blue plaid skirt, a black vest from her mom, and a corduroy jacket. Bellas' rings are from the thrift store and also from her mom. Personal style means a lot for Bella. She explained, "I think personal style directly correlates to personal expression and how you present yourself. And for me, personal style has helped me connect to a bunch of other people that are kinda super similar to me, which has been awesome. Its means feeling good and feeling like yourself." Her biggest inspirations lay on the internet: "I use Pinterest alot for style inspiration, Pinterest always. Also Enya Aumanzor, I love her style, it's so sick. Clearly, I have been influenced." Enya is a public figure famous on Youtube and Instagram. Bella is not a fan of skinny pants. "I hate skinny pants, I hate boring skinny pants. It's not really like a trend right now but like, it's a no go."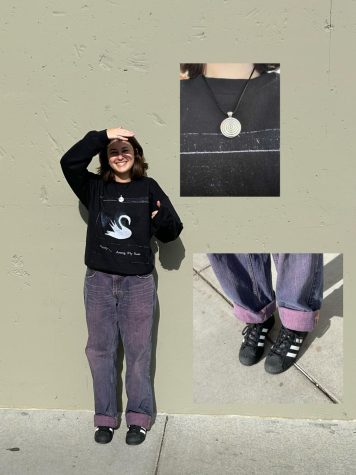 Clara is wearing a Mazzy Star crewneck I got from Etsy, Purple jeans from the antique market at the Civic Center. Her mom's long sleeve and black Adidas superstars. "The necklace is actually from Seattle, from a little antique store." Clara describes personal style as a way to "wear her feelings." She gets a lot of inspiration from the 90s: "My favorite era of fashion is definitely the 90s, but I honestly just scroll through Pinterest for hours and find random people and pull from that." Her least favorite trend as of late has been animal print: " don't like cow or zebra print. Just like animal print in general."
Clothes play an important role when it comes to giving us an identity. They help us connect with subcultures and communities. They have transcended the original need to keep us protected and have become its own medium of expression, and a very personal one too.