Meet a Trojan: Dr. Foster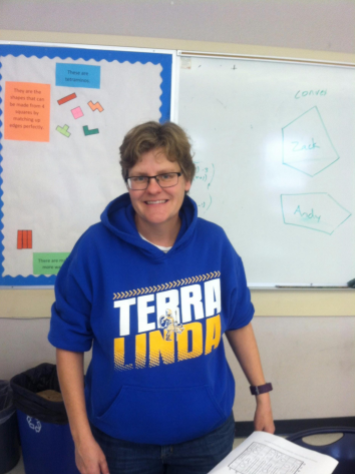 Dr. Halcyon Foster, one of the math teachers at TL, shocked me by saying, "I have a degree in music composition." She went on to explain that she once wanted to be a composer, but got a degree in math because she was afraid that her family would not be economically supported by composition. Her family consists of her partner, 8-year-old daughter Kate, and 11-year-old son Rhys.
She grew up in Nebraska, where she also went to college. Dr. Foster's college, Nebraska Wesleyan University, was about as large as Terra Linda High School is today. Even with about 1,300 students, Dr. Foster was not just another anonymous student, her professors send her Christmas cards to this day. She chose to attend Wesleyan because she wanted to be known instead of being 1 in 30,000 at Cal or another large University.
Her move to California ten years ago was a great shift for Dr. Foster because Californians tend to be more progressive than people in other places, such as Nebraska. There was a lot of unpleasantness that she just couldn't deal with. "Being a mom raising kids with my lesbian partner in the Midwest was just unpleasant," explained Dr. Foster. The values of her family are different than most in the Midwest, and with all of the LGBTQ advocates and laws that support LGBTQ rights in California, her family felt right at home. At the time of her family's move, her son was a 1 year old.
When in Nebraska, Dr. Foster worried about how people would be judgemental about her family, but in California, her worries disappeared. She doesn't think about having to tell her kids' teachers that her kids have two moms. People in California often don't care whether a person has two moms, two dads, or any other assortment of parents. "Since I've moved to California, I don't even think about it anymore. People just don't care that my family is what it is because they see it as valuable like every other family," states Dr. Foster. She also likes California because she doesn't have to shovel snow anymore.
Dr. Foster is a self-described math geek. She loves math more than any other subject. "It's satisfying in ways that other subjects weren't for me," she explains. Her love for math influences her students, and classes with Dr. Foster are always very exciting. Writing two column proofs might seem boring, but with Dr. Foster, they are really fun, especially with her quirky sayings. For example, "Never close your eyes while walking through the forest," also add a lot of laughs to the class. This saying comes up in class when the class is learning to write two-column proofs.
Dr. Foster never fails to make class interesting, even on test days. Her great love of puns, jokes, and other sayings always spice up class. She is one of the most fun-loving teachers that I have ever met, and also one of the most interesting.