Terra Linda vs. Sonoma State University Battle in Settle in Smash Tournament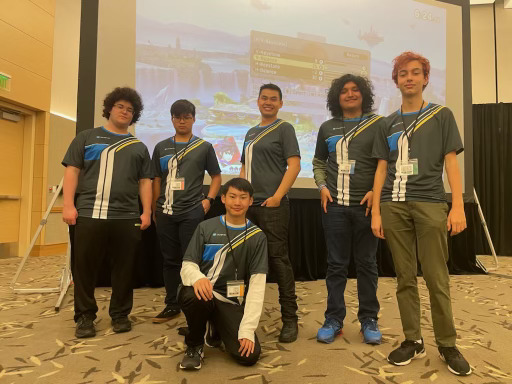 Competitions and tournaments are very common in the sports industry, like the NBA, World Cup, or NFL, the same goes for esports. Starting from small local scrimmages to global challenges, testing top players from around the world, and teams that are always trying to become the best. There are many benefits like awards, trophies, and recognition that can be gained from participating in events. Esports are climbing their way to popularity, especially with high school teams who are newly entering the playing field. 
On Saturday, February 4, 2023, the Terra Linda High School Super Smash Bros team placed 2nd at the Sonoma State University's Settle in Smash tournament. This was the team's first Super Smash Bros Ultimate tournament outside of school. TL managed to beat Sonoma State's team, scoring higher overall. There were a total of 55 participants competing for Nintendo pro controllers and amiibos. The teams which attended the tournament were Terra Linda, Sonoma State, BlinC, and other groups. The players arrived at SSU from 1 p.m. until 7 p.m. while being provided pizza, snacks, and soda to keep the gamers playing to their full potential. Terra Linda performed well and made it as far as the grand finals, but they were eventually defeated by their opponent Kirbyfan33 of team BlinC.  
Although TL didn't place first, three of the players made it to the quarter-finals and one player made it to the grand finals. Valor Previtali and Brian Luu, both 10th graders at TL, both agreed that it was an enjoyable event. Luu said, "It was a good experience, everyone there was very nice and chill." Previtali concurs and adds that "It was good just for practice, even if you necessarily didn't win…like in my second game it was pretty close and just to know how close it was with a college student on an esports team makes me feel better about myself." Both students plan on playing Smash competitively throughout high school and possibly college. They were glad to have the opportunity to get a glance at what esports in college look like.  They hope to refine their game mechanics and skills as time progresses. Previtali notes how they observe that their skills have improved since the tournament and they have been practicing nonstop. They look forward to the next competition and aim to improve as much as possible. 
The coach and teacher at Terra Linda, William Luong, recalls how the team had good morale and received many compliments from others about their matching team jerseys and gameplay. He remarks "I thought it was a great first tournament, and everyone played well." In a few weeks, the team plans to join Cali Clash, which is held in San Rafael on Saturdays. Luong comments, "It's kind of cool 'cause they're kind of a new tournament…" The vice-captain, Angel Mejia, is also planning another tournament for TL students in the near future. By participating in these tourneys, the team hopes to gain experience, improve their skills, and have fun. Team Captain and Senior Kaden Teoh added, "Going to more tournaments is something we do want to do because sometimes you just need to play the game to get better." This group of aspiring Smash Bros gamers will rise to the occasion and challenges in each competition, setting a solid foundation for Terra Linda's future esports.