A loud roar rushes over the crowd as you try to see over the extremely tall man in front of you. Soon you can't hear anything but EDM coming from speakers next to the stage. A strong aroma of marijuana comes blowing by you and you feel very hot. Your position is very uncomfortable and sweaty but you don't care because your favorite artist is performing live in front of you. This is the best time of your life and you will never forget this feeling. This is the magic of music festivals and the reason they exist.
Music is not just a part of the entertainment business, it has always acted in and been a major part of acclaimed events, especially here in California. The music entertainment business has further been evolving along with it. It has created careers and altered the way people look at life. Concerts and music festivals are a huge part of the music culture and allow people from around the world to see famous artists perform live. The different genres of these music festivals help people express their love of music.
A local music festival, BottleRock, in Napa Valley took place in May from the 25th to the 27th. This year, Bottlerock had a large variety of performers, with a mix of rap and pop, such as Bruno Mars, Snoop Dogg, and The Chainsmokers.   
The initial BottleRock festival was a five day event with three stages, but too many injuries and damage led to just one stage and a three day event. The City of Napa pays millions of dollars for the festival. Some of the vendors still didn't get paid the $10,000 to $15,000 they were supposed to make and most haven't seen a dollar from it.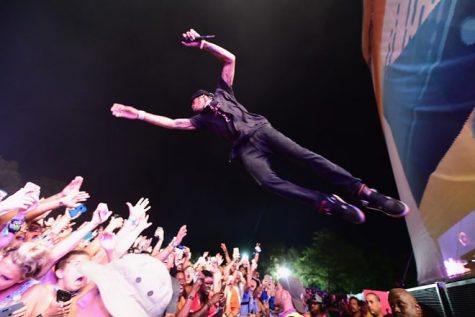 Coachella, the popular festival that focuses on rock, indie, hip hop, and electronic dance music (EDM), usually it is two weekends, this year if was from April 13-15 and April 20-22. The founders, Paul Tollett and Rick Van Santen, created Coachella in 1999 and it was held at Indio, CA with an attendance of 20,000 people. Last year, the average attendance is over 250,000 people in the exciting two weekends. The EDM music, such as San Holo and Alan Walker, has been a very popular type of music in these music festival and has been a crowd favorite for the past couple years.
Outside Lands in San Francisco at Golden Gate Park is a very popular festival among Terra Linda students. This festival includes indie rock, alternative rock, hip hop, and electronica genres. On average there are about 40,000 to 60,000 attendees each year. 60 different musical acts take place in this festival. The festival takes place from August 10th to around August 12 with very popular performers like The Weeknd, Future, and Odesza.
Another Terra Linda favorite is South Lake Tahoe's SnowGlobe. This festival mainly focuses on EDM but a lot of rap artists are placed in the lineup. Junior, Kobe Johnson, recently went to his first year of SnowGlobe. "It was rad or radical," he explains that the performances were perfection and that his favorite performer was  rapper Travis Scott. When asked about the price of the tickets he stated, "T'was a lot of money for a high school student but well worth it." Johnson loves the EDM music and sees it as a way to connect with the wild and intrigued crowd. The festival is ongoing during New Year's Eve which contributes to the party feeling of SnowGlobe. The California Music Festivals are a great way to listen to your favorite artist and get a deeper connection with music.