"Blacklight 2023, best night of my life" states junior Ryan Maldonado. Ryan believed the dance to be extremely enjoyable, and hot. During the dance, Maldonaldo describes the mosh pit and dance area as "hype, sweaty, and cool". Truman Schott who's been referred to as the life of the party at the dance was quite the center of attention in the middle of the mosh. "People threw me in, so I just freestyled and went with it" explained Schott.
For the first time in black-light history, a DJ was able to play at Terra Linda. 
The DJ provided tons of different and classic music at the dance. The administration's goal was to have ASB students enjoy their hard work and not have to worry about pleasing everyone. "It took a lot of pressure off of the students, and that's something that was important for a big dance like this," Says Ayoob. Some students felt that the DJ didn't play what teenagers prefer as "mosh music". "If I was a DJ, the crowd would go wild", states Maldanado.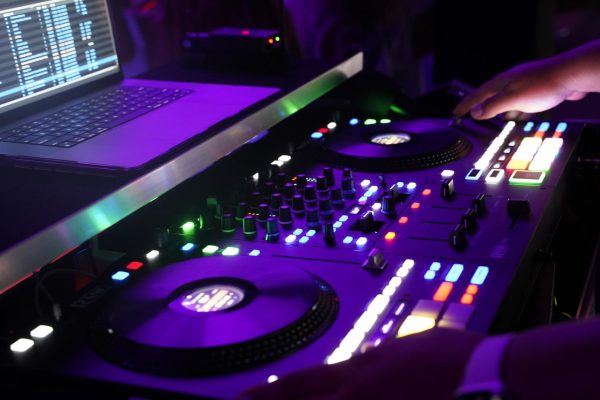 ASB Teacher, Ms. Ayoob shares her opinions on her first-ever blacklight dance at TL, "I was not expecting kids to be so crazy, and have so much energy". ASB as a collective wanted to improve the water resources and airflow of the gym. "Definitely something we will try to switch up next year" States Ayoob. She was also extremely glad the ASB team provided Kona Ice as a refresher for students coming out of the hot, stuffy gym. Ayoob also credits "Minga " for being a helpful resource during the dance. " I know it can be a controversial tool, but for the dance, check in and check out was super smooth, with everyone in the gym by 7:20". 
ASB President Lorlai Altura, definitely felt like it was a step up from last year with the new ASB teacher Ayoob being in charge. " We covered the whole gym with tarp and decorations which made it feel less like a gym." shared Altura. This seems to be a common opinion, "We got a lot of feedback from underclassmen and upperclassmen saying how fun the dance was." All in all, Altura and the ASB team felt satisfied with their hard work and the outcome of the dance.
A big thank you to all of ASB for giving the Trojans one heck of a night, filled with neon, dancing, and fun!