Meet The Terra Linda Librarians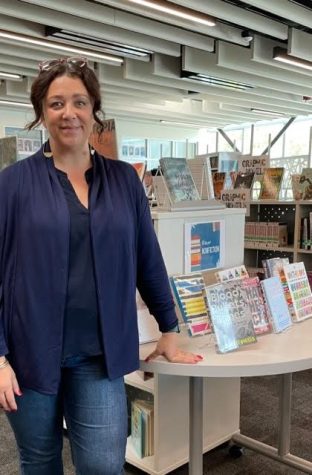 Our Head Librarian, Kendra Rose, grew up in Palo Alto, California. Before obtaining her masters in Education at the University of Santa Barbara, she graduated from the University of San Diego. After grad school, she came back to the Bay Area. Ms. Rose got her first full time job as a teacher here at Terra Linda. She started teaching English, ELD, journalism, AVID, and was an instructional coach for about 12-13 years. She then transferred over to San Leandro but soon returned back to her home base at TL. What first sparked her interest in being a teacher-librarian was when she met a fellow teacher who was also a librarian. Before this, she had not known of the position of teacher-librarian. Ms. Rose saw what she had done, and she knew she wanted to have this amazing position with a whole lot of creative freedom and opportunity. Knowing there had been no librarian at the time, Ms. Rose saw the opportunity and started working at Terra Linda as the first ever teacher-librarian here. This year she is full time at Terra Linda, last year working at both TL and San Rafael High School left her a lot of opportunity to help kids. "I love TL, I love the community here, the teachers, it was hard to leave and go to another school and leave my colleagues. I was excited to come back, I think it's a really fun and unique school with a strong administrative team." Wanting to take a pivot in her career, she wanted to bring in a valuable position to Terra Linda. She loves reading mystery and romance. She wants to prioritize helping students read books they can enjoy anywhere, anytime. Other than being a teacher-librarian she loves to express her creativity. During her free time, she makes her own earrings for friends and herself. Having had an Etsy shop for a while during the pandemic, she found that making them for fun is much more enjoyable. She didn't know that being a teacher-librarian was what she had wanted to do. She gets to support teachers all across campus, be creative, work with students, and be around books. "A breath of fresh air after being in a classroom for all these years." She admires and respects all teachers for being passionate, devoted, and motivated. She finds her job rewarding for herself and others. Rose has definitely thought about writing a book about young adult fiction that makes students want to read and be open minded with reading. Ms. Rose loves the overall inclusivity and vibe Terra Linda creates as a school, and most importantly, as a library.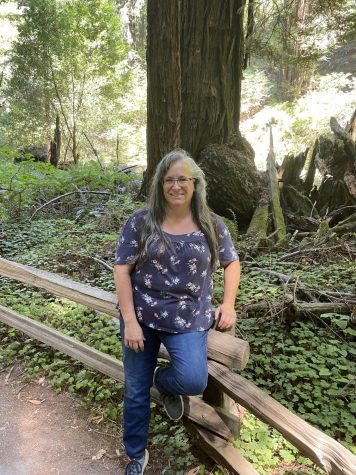 The Terra Linda Library has two amazing Librarians. One of which is Melanie Tyrell – Ms. Melanie, who is our librarian assistant! Growing up in Riverside in Southern California, she has been a California girl her whole life. After her high school career at Riverside High School she went to Riverside Community College. Before she pursued her career as a Librarian, she worked an 8 to 5 job in an office doing something she didn't enjoy. Being behind a desk, office politics, and not being able to help people wasn't something she enjoyed. After her office job, she continued to look for jobs that inspired and helped others. Down in SoCal, she worked as a Library assistant at Hillcrest and Alvord High Schools, five years at each and a total of 10 years before Terra Linda. She has worked here at Terra Linda for five years. Staying with Terra Linda has allowed her to work with students face to face, and help kids love reading. She finds the Terra Linda library is welcoming, easy going, and available for high school kids. Her favorite part of her job is working with kids, constantly being able to move around, and watching kids mature and grow as students. When asked what her favorite part of her job was, Melanie said this: "Seeing how students mature over the years, it's really enjoyable, and seeing how they progress from freshman to senior." She loves to read because reading expands your vocabulary, wellbeing, and imagination. She wants students to experience free, accessible, and fun books to read. Gone With the Wind written by Margret Marshall is Melanie's favorite book, going back to her childhood, the book takes place during the Reconstruction Era in the South. As she loves to read, she wants to write a book about the positivity of being an adoptive child and being raised in a positive light as an adopted kid. She would include, pursuing her birth family, identity, and health, as growing up in an adoptive environment. In her spare time she enjoys hunting, fishing, gardening, helping people, and reading. During Covid, Melanie advanced her passion of fishing and hunting. She often goes with her husband and enjoys being outdoors. Ms. Melanie wishes to stay at Terra Linda for as long as possible, helping students and teachers pursue reading.