Expect the Unexpected: World Cup 2022 Quarterfinals
56 matches and 148 goals scored; There have been a wide variety of results for all 32 teams competing in the 2022 FIFA World Cup. Up to this point in the tournament, there have been many upsets and surprises, especially now that the group stages and round of 16 are officially over. Only one team can take the victory home, and with only eight teams remaining, the end of this quadrennial tournament is nearing completion. 
The last teams standing are Argentina, Brazil, Croatia, England, France, Morocco, Netherlands, and Portugal. Although these high-class teams have officially made it to the quarter-finals, it certainly was not easy. Of the 32 teams participating in this tournament, 24 have been eliminated. There have been lots of disappointment and tears, especially from big teams like Germany and Spain, and teams with extravagant support systems like Mexico and the United States.
Sophomore Salem Bezard expressed their shock at the various unpredictable match results in this World Cup. Especially the game in which the USA faced a rather distressing 3-1 defeat against the Netherlands, on December 3. This was a rather disheartening end for many United States supporters including Salem. They had truly anticipated and hoped for a victory, however, disappointingly enough, the USA's performance fell short. On the other hand, the Netherlands exceeded Salem's expectations. "I was really surprised, I didn't think the Netherlands was that good," they commented. Unfortunately, after losing the match the United States has been sent home, not qualifying for the quarter-finals this year. Although Salem is still hopeful for the team in the future. 
Senior and varsity soccer player Ryan Santos is a major Argentina fan and hopes his team will succeed in this World Cup. "They've been my favorite team since I was a little kid and I've always been rooting for them." He adds how he hopes to see Messi lift the trophy for one last time. "Ever since I was a little kid I looked up to him. He always made me believe that anybody can have a chance in soccer."
Santos voiced his disappointment in Argentina's 2-1 group-stage loss against Saudi Arabia on November 22. "The Argentina and Saudi Arabia game stunned me the most because it was a very big surprise. I thought Argentina was going to go on a roll when Messi scored the penalty… I was in very big shock and didn't know what to feel at that moment." However, Argentina succeeded against Mexico on November 26 for the second-to-last group stage match. He exclaims his favorite World Cup moment was "When Messi scored against Mexico."  Every team in group C had an opportunity to go through to the round of 16, which put more pressure on the players and fans since nothing was guaranteed. However, Argentina and Poland managed to qualify.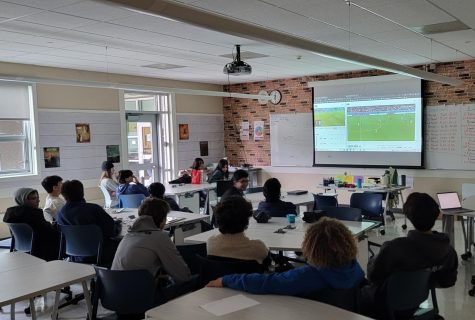 The most unforeseen group-stage matches in the 2022 World Cup have been Argentina's 2-1 loss against Saudi Arabia on November 22, France's 1-0 loss against Tunisia on November 30, and two matches that occurred on December 2; Brazil's 1-0 loss against Cameroon, and Portugal's 2-1 loss against South Korea. 
This World Cup is one for the books, with more incredible football moments, a different atmosphere compared to previous years, and passionate fans from across the world. Santos also shares, "I think this World Cup has been very surprising. There are a lot of big teams not performing well, but still getting results. And just the way it's in winter and we're watching it in school- it's just very different…But it has been a very good World Cup so far."