Terra Linda's New Competition Gym
As of December 6, the Terra Linda High School competition gym will be completed after two years of construction. The gym is planned to be fully completed by January 2023. Students and staff are excited about the new building and the amenities that will be available. The gym's development is a huge advancement for Terra Linda and will benefit everyone on campus.
Construction began in 2018, with the plan for phase one to build the Innovation Hub and Student Commons. Continuing into phase two, the new gymnasium and frontage are completed. Construction around campus is finally wrapping up after four years. Over the past few years, the San Rafael School District has received bond measures that allowed them to continue to renovate and expand Terra Linda's campus.
The new Gym features many brand new amenities that will provide a finer experience for visiting sports teams and their fans. Some aspects of the new gym include office spaces, a workout room, a whirlpool tub for athletes' recovery, a state-of-the-art audio system, and individual locker rooms complete with TVs. In case of unpredicted emergencies, the gym is designed with solar microgrid batteries to support itself and allow students to safely reside inside. However, this is a soft move-in, which means that not everything will be entirely finished upon opening.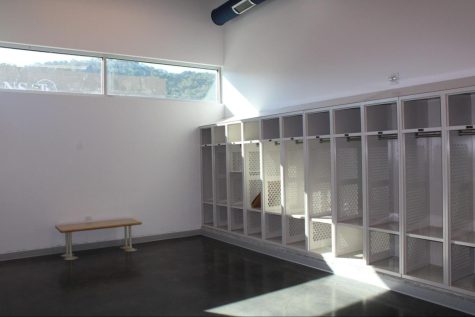 Traffic congestion has been one issue factored into the construction of the gym. There is a newly paved two-way path for bikers to keep bicyclists separate and moving with the flow of traffic in order to reduce possible accidents. A new path was also created for parents dropping off their students to resolve the same concerns, made by parents. 
Upon opening, the basketball teams will be the first to compete and practice in their new gym. "I am excited to play in a new environment, and there's a lot of hype around the opening so it will be really good for the teams," said senior Wyatt Dunn, an athlete on the Varsity Boys' Basketball team. "We won't have to battle for time in the gym," senior Nikko Sasaki, Captain of the Varsity Girls' Basketball team stated. Having two gyms allows for the boys' and girls' teams to practice simultaneously allowing for maximized training opportunities. 
On Tuesday, December 6 at 7:00 pm, Terra Linda High School will be hosting a ribbon cutting ceremony celebrating the opening of the new gym. A Varsity Girls' basketball game will be held at 5:45 pm, and a boys' basketball game at 7:30 pm. The event will take place during halftime and includes contests and music. The cheer team, mascot, and school band will also be present to honor this event. Terra Linda staff and students with an ID and middle schoolers may come in free of charge. Tickets for adults are $10 and $5 for senior citizens.