Class of 2022 Futures Map
Dear TL community, 
In previous years, the Senior Futures Map would be displayed in the spring edition of our magazine. Even with the pandemic and other setbacks, our team in collaboration with Graphic Design and the College and Career Center is delighted to present you with the Senior Class of 2022's Futures Map! 
Seniors, this is a testament to your perseverance and continual ambition. The Class of 2022 missed the latter half of their sophomore year and practically all of their junior year as a result of the pandemic, the most pivotal academic moments viewed in the college admissions process. However, you've made it and are all going your separate ways. Whether you are pursuing further education, joining the workforce, serving our country, or are still undecided, we are all so proud of your accomplishments and are beyond excited for your future.
Underclassmen, use this as inspiration as your time in high school will go by quickly; it's not a cliche. Explore the colleges your upperclassmen are attending–see any places you've never heard of but intrigue you? Have you ever considered taking a gap year or traveling the world? What about joining a branch of the military? Your future is up to you to decide, but we hope that the footsteps of your senior class can help you in your own journey. 
We thank Lisa Cummings, Principal Dunlap, Assistant Principals Lauren Inman and Karen Arcangelo, Alex Miazga, Carol Morales, Randall Baker, and all who made the production of this year's Futures Map possible. 
We hope everyone enjoys it, and we look forward to the Class of 2023!
Sincerely, 
Bryan Luong '22, Editor-in-Chief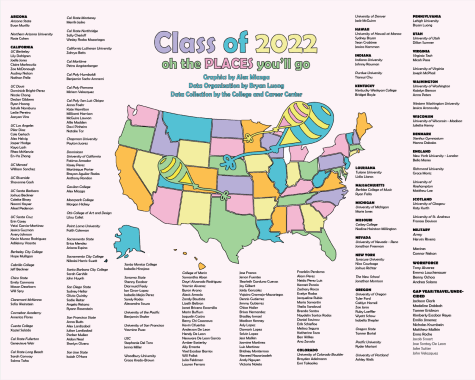 (Click image to enlarge)