Not Sm(art)
Vandalism is found everywhere in our world. It's normally around for a few days, and on the rare occasion, a few weeks, before being removed. Graffiti is most commonly found in parks, schools, and other public places, due to the amount of foot traffic– often unpleasant to look at and equally as annoying to remove, because of spray paint, sharpies, or other semi permanent materials, which smear when removed. According to KTLA, on 6 August 2021, Gavin Newsom passed a bill for $1.1 Billion dollars for the removal of graffiti and trash from California Highways. Much of this went towards the removal of vandalism on bridges and overpasses.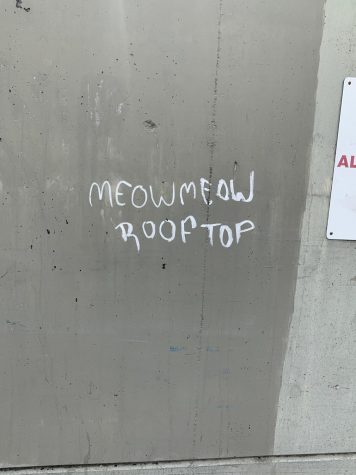 Here in Terra Linda, some of the more hard to spot graffiti remains for many months and occasionally years at a time. At the Safeway near TL, there's an seemingly illogical phrase on one of the walls saying, "Meow Meow Rooftop," with one anonymous student claiming, "I can't remember a time when I haven't walked past it and not chuckled at it with my friends it's become like a landmark for us." Another place graffiti has been around for a while is the public park next to Kaiser Permanente with many of the benches and parts of the playground covered in anti-cop graffiti, some of which has been there for months. 
A year ago, in downtown San Rafael, the Father Serra statue was spray painted red with words ranging from "racist" and "murderer," before being pulled down with ropes in broad daylight. Father Serra was one of the founders of many of the Missions in the San Francisco area. No matter what your view was on the statue, pulling it down and spray painting it fits into the legal definition of vandalism. Due to the statue being part of a church, the five people who pulled the statue down were all charged with felony vandalism, which can lead to three years in a state prison and/or a fine up to $50,000. Currently, the five main suspects are set to appear in front of a judge on this upcoming Friday, and the judge will determine if the suspects will determine if there is enough evidence for the suspects to go to a proper trial. Many people are looking forward to the trial, with a person who was present when the statue was pulled down saying, "They should be charged with a hate crime, they pulled the statue down because they disagree with our values and beliefs. If we were to pull down a statue of something we disagreed with we would be arrested and charged with a hate crime, yet a mob of them pulled our statue down and yet only five people got arrested after over a year. I know of at least three videos that show the people pulling down the statue, and you can clearly see the faces of way more than five people, so why hasn't anyone else been arrested?"
Graffiti has been around for most of human history, and as such will likely continue for as long as humans exist. While it is often ugly and annoying to look at, we must accept that it is something we will see wherever we go. It lowers land value, wastes much needed taxpayer money, and takes time from the city workers who could be doing more important tasks. Even in the last couple of weeks, the brand new building has had spray paint sprayed on its walls, showing that no building is safe from vandals.