Male Athlete of the Week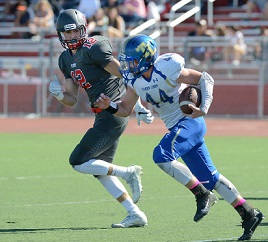 The Trojans football team traveled to redwood last Saturday to face off against the giants in what would end up being a complete annihilation by Redwood.
Although the Trojans as a whole did not perform well, Sophomore Jackson Zabierek had a game for the ages. Zabierek, number 44, is primarily a running back on offense and linebacker on defense. What earned him Athlete of the Week this week was his outstanding performance on offense. Zabierek was handed the ball 23 times and he ran for 245 yards. This outstanding performance moved him up to number three in overall rushing yards for Marin county high school football.  Zabierek a 5 foot 8 175 pound sophomore,  is really making his name known across MCAL. Part of the reason for his success is junior Dominic Martinez. In the words of Zabierek, Martinez really guided him into the transition of varsity football. Zabierek also states that another key to his success are his luck mis-matched socks.
On the second play after halftime QB Matt Peters handed the ball to Jackson and 80 yards later he was celebrating a touchdown. Although that was his only touchdown of the game, he had many high yardage rushing plays. "Well right now I'm 482(rushing yards) I would really like to get at least a thousand yards, hopefully more". Zabierek has set high goals for the season. So far he is living up to his own standards, although he is third in overall rushing yards, he leads the league yards per rush. At 10.3 yards per rush the next highest player in MCAL is at 9.0.
With Zabierek only being sophomore, he will surely be talked about for years to come. Not only for his remaining time as a Trojans but hopefully in college. In a couple of years don't be surprised if you see Zabierak in his number 44 jersey on ESPN. Congratulations to Jackson Zabierek for being selected as Terra Linda's Male Athlete of the Week.