Find Your People: Terra Linda Clubs
Have an interest?
Clubs at TL are an important part of student life because they represent the large diversity of students and are a chance for students to express their unique personalities through common interests. Any student can start a club, they just need to follow a few steps to accomplish it. Mr. Celli, TL's assistant principal explains, "Students interested in starting a club need to get a form, get cleared for the club by the office, and find a teacher advisor to advise for the club." TL has always had clubs as far as Mr. Celli knows, even back when JT was a student! Here are the clubs that the school is offering in 2018/2019 and a small description of their goals and history.
If you want to learn more about activism, join GSA (gender sexuality alliance), Feminism Club, Activism Club, and/or Body Positive. GSA welcomes a variety of students of varying sexualities and is a place where students can freely discuss and express their identity. Junior Jason Tighe,  co-president of GSA, explains, "GSA is a club that creates a safe space for students who are questioning their sexuality or are part of the LGBTQ+ community." The teacher advisor for the club, Alex Robins says, "GSA is definitely a good club to have because it represents a group of people who share a common identity." This club is popular among students because they feel supported and empowered by other students.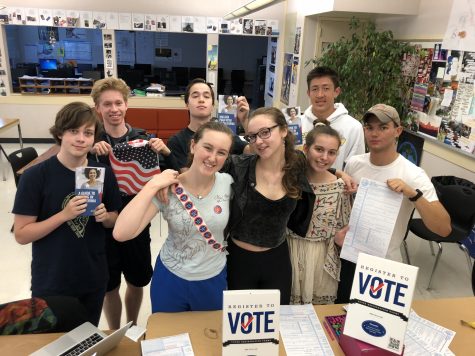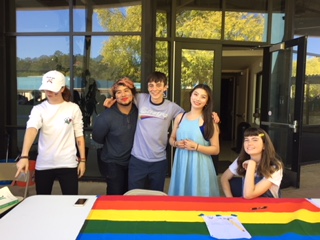 Our Feminism Club is run by passionate junior Josie Borden who explains, "We are working towards fighting sexual harassment and all kinds of discrimination on campus." This club lets students empower each other such as how they discuss topics that are relevant and necessary to talk about such as sexual harassment. The ubiquitous #metoo movement has such a powerful effect on students and gives attention to topics like sexual harassment that most people don't feel comfortable talking about.  Feminism Club is the place for this.
Bini Gellini wants to generate more conversation at TL about body image. She struggles a lot with her body image, so she wants to create a safe space where students can express freely how they feel towards themselves without judgment. She explains, "Media can be a big factor to (suggest) how your body is supposed to look and it can have a negative effect on your life." Having a support system that can help students express how they are feeling about their body helps them see that they are not alone.
Other clubs, specifically Interact, CIA (Citizens in Action), Nicaragua Service Project, GSE (Global Student Embassy), and MAYA (Marin Against Youth Abuse) focus more on helping our greater both the Terra Linda and Global communities. CIA and Interact help the environment in a similar way, and even work together sometimes during the year. Jocelyn Tsai, president of CIA, says, "CIA is a club that connects students to their community through fundraising." This is done in many ways such as simply volunteering or donating resources to people in need. Molly Madden, president of Interact explains how, "it gives students a way to get interested in the community, and make a difference by doing projects to help our school and volunteering." Mr. Tow, teacher adviser for CIA, and Mr. Baker, teacher adviser of Interact both explain that it is important for students to donate their time, and they like seeing students engage with their community.
Nicaragua Service Project and GSE Eco-Action club are also clubs that work to help the community and environment. Senior Jillian Hickey, one of the presidents of GSE explains, "We plan for restoration days to make TL a more eco-friendly place." There are so many ways to show how much we care about our community, such as how Junior Ethan Levinson has gone to Nicaragua every year since 9th grade to help out. He shares with us that the Nicaragua Service Project, "does a lot of creative projects that include painting a part of the school and helping out whenever they can." They also go to a place named "Pepito" where people with Down's Syndrome can go to get help. Students part of the Nicaragua Service Project help the children learn how to communicate with each other.
Junior Natalie Darren has been involved in the MAYA (Marin Against Youth abuse) program, which operates outside of school, since her Freshman year. She explains, "We want to create awareness about domestic violence/dating abuse and educate about these topics." Working with her friend, Isabella Farfan, they created MAYA to empower and educate students about domestic violence.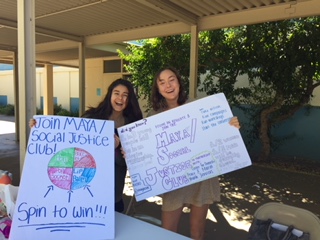 If you want to join a club to further your artistic interests you should consider joining Sewing, K-pop, and/or Creative Writing Club. Senior Jolie Verhalen wanted to be president of the Sewing Club because she has a ton of ideas for projects, and is able to teach students how to sew. She explains," This club helps students learn the basic process of making an object out of fabric and figuring out how to find measurements by following a pattern." Students can tell their story through their art work and explain how they really feel, without using their voice. Sewing club shows students how art can have an impact in their daily life, whether that means re-using or making new clothing.
Another artistic club at TL is K-pop Club. This club was just started this year and president Tristyn Lai told us, "In this club we basically listen to music, and talk about K-pop as a group." She also explains to us that many students are starting to like K-pop, as it becomes more popular in society. She wants to create a space where people can hang out–Tristyn has always loved K-pop, so she wants others to recognize their interest as well.
Creative writing club, was started by Junior Andy Krumbein, and he describes it as, "a group of students who want to become better writers and listen to other people's stories." He has always loved to write and wants to share his interest with others.
Interested in different cultures? Consider joining French Honor society and/or Jewish Student Union. President Fiona Ben-Ora, the president of French Honor society, describes it as, "a place to hang out and learn about the French culture." Cultural clubs are important because they expand our knowledge about other cultures besides our own.
Another club that ties into this category is Jewish Student Union. One of the presidents, Josie Borden explains, "My friend Hannah Reiter and I started this club because there wasn't really a unified Jewish community at TL, despite the amount of Jewish people who go here. During the meetings we talk about the Jewish culture and appreciate it by bringing in Jewish foods and celebrating some Jewish holidays." This club can greatly expand our knowledge about the Jewish culture, and open our eyes to how important this culture really is.
There are a few other clubs that have their own categories: Mountain Bike Club, TL Maker Lab, and the Super Secret Math club. Mountain Bike Club is a way to get exercise outside of school, and there are a lot of great trails to bike on. Shoshana Harlem, who loves to mountain bike, and is the president of this club describes it as, "a great way to get people to exercise and relieve stress while riding their bikes." This club is more like a team because they meet after school some days and race some weekends, but it's not officially a team.
While many students enjoy Mountain Bike Club, they also enjoy TL Maker lab which is designed to bring computer science into learning. Senior president Owen Bartolf explains that, "in the 21st century people will need technology for jobs, and we are learning how to use that technology." He started it Freshman year and knew from the beginning it would be successful, because of the talent students have when it comes to technology and computer science these days.
Charlotte Kamman is the president of the Super Secret Math club. She says, "Math can be fun and it is a safe space to come together." In the Super Secret Math club you don't have to be good at math to join, you just have to enjoy it. They can solve any problem you throw at them, and during the meetings they practice word problems and puzzles.
The school bell rings and your time is your own. Clubs are waiting for you. You run into the nearest classroom you can find and the club for you. There is nothing stopping you from joining them and finding your people! We encourage you to check out all or at least some of these clubs because they are here for YOU.
Tagged:
clubs