Cross Country Team Preview
By: Ata Bekce
Cross Country Team Season Preview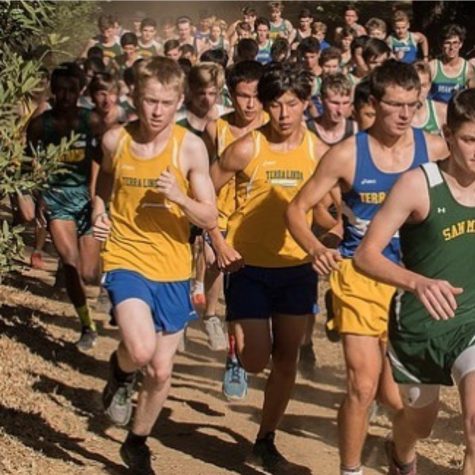 As we are getting back into the flow of school, The Terra Linda Trojans Cross Country team, led by coaches Warren Lanier and Ron Newstat, look to improve on last year's impressive season, which left them in the top half of MCALS for the first time in multiple years. This year, the teams' goals are to win MCALS and get a banner for TL.
With only two seniors returning for the boys and four seniors returning for the girls, the cross-country team knows that it is going to be a challenging season. Even though there aren't a lot of seniors on either the girls or boys team, there are many promising underclassmen ready to compete. With impressive underclassmen such as sophomore Jeremy Bloomberg, junior twins Kai and Brody Roberts, and freshman Emily Carmona, the cross-country teams look to finish on top. While more leadership and experience is very important, boys captain Josh Quintero said "I don't look at having two seniors as a disadvantage but rather as an opportunity to show the leadership we have." Along with boys captain, the girls captain Sophie Yoakum said," We have a bright future ahead of us. While this season may not go the way we want it to, the future for the cross-country program looks promising."
The returning players feel very optimistic about the upcoming season. When asking captains Josh Quintero on what he wants to accomplish this season, he had this to say," My goal is to bring a banner to TL. I believe in our team and think that we will have a very promising season. I hope to bring my experience and leadership in order to help my younger teammates."
The main difference between this season and last season is going to be the teams' depth and consistency. What difficulty might the team encounter? Sophie Yoakum says "While I believe that our team is very resilient, there may be a point halfway through the season where we struggle to keep our pace and push to the finish." While the teams do have promising young runners, leadership and guidance will be needed to help push the young players and help them stay resilient even if things don't always go so well. The returning seniors will be expected to step up and take on even bigger roles in order to push the team forward. The consensus goals of all of the players is to improve on their prior season, push themselves as well as their teammates to get better and pass on the traditions to the younger runners so they can help TL in the future.
With the season upon us, the team looks to compete at an increasingly high level. With tough MCAL teams challenging them, the Trojans have a hard path in front of them this season. However, they will not shy away from this challenge because they know what they are capable of and know that their team can stack up against the top teams in MCAL. Along with a stellar coaching staff and a group of runners ready to compete, this season will be a exciting one to watch.