Nicaragua Service Project 2017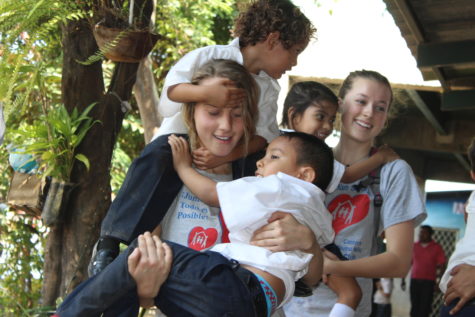 Every year in the late days of February, the Nicaragua Service Project embarks on a journey to Managua to give back to the communities and families that live there. 
At the beginning of the year, almost 90 kids show up to the first few meetings in hopes of becoming a part of this beautiful program. As some drop out or realize the responsibility might be too much, a group of around 30 people are finally committed to go. After a summer of fundraising at the county fair and numerous events during the following months, the group gathers their donations, gets their shots and packs their bags to prepare on an experience of a lifetime.
Formally known as "Nicaragua Service Club", the group was managed under Terra Linda High School and received its support. The school, however, decided not to sign off on the trip and cancel it entirely two years ago due to the liability of the trip, even though there had been no problems before. Luckily an old folk rock star named Gene Cotton heard the district was shutting it down and decided to help and sponsor the group. Having his own school in Nicaragua, he had been doing service and living there for many years. His heart is full of love for Nicaragua and anyone else who wants to help his cause. Through him, the organization was able to transform itself into a non-profit organization and officially became the Nicaragua Service Project.
Group participants are expected to create lessons for a school called "El Divino Nino" which ranges from preschool classes to sixth grade. Most children in Nicaragua are only expected to reach sixth grade, and after that start helping their family by finding a job, taking care of the family at home, or on the farm. The culture can definitely come as a shock to some people which is something to think about before going, not to mention temperatures in the 90s nearly everyday. 
In addition to working at the school, Terra Linda students visit an orphanage, culture heritage centers, a hospital, local homes, coffee farms, other schools, parks, beaches, lakes, markets, and so much more. A first year member Sallar Tahmasebi shared that his favorite parts of the trip were, "Going to the hospital to give food to cancer patients and sheets to sleep on, creating connections with the children, and experiencing the culture."
An old but charismatic school bus takes the group around Managua, giving everyone the opportunity to bond. Going into the trip with a mindset of wanting to make new friends will make it way more enjoyable for everyone. The bus driver Roberto drives the group every year they come to his county. The people that come back to see the club and support them every year are considered family, and they consider everyone in the club the same.
Every night after a long day, the group comes back to a retreat center called Cantera. It includes four cabins  to sleep in as well as an eating hall and presentation room where the club hosts an award ceremony for the children that are receiving scholarships to continue their education. Cabins are separated between girls, boys, and staff. The facility is surrounded by beautiful gardens and greenery. It is a real honor to stay there.
As an article cannot nearly express how impactful and amazing the trip is, just know that after travelers come back they will always have Nicaragua in their heart. To see the way people live with little to nothing, but also are some of the most giving people, is mind blowing. The culture is rich. First year trip member Mady Harris felt that, "Coming back was one of the hardest things because I was not expecting the reverse culture shock." People in the U.S. (specifically Marin) live their lives very differently than the people in Nicaragua, but that doesn't mean people can't learn a thing or two from them. Anyone reading this is encouraged to check out the club because the work is worth it.