Brocking out in San Francisco: Live Concert Review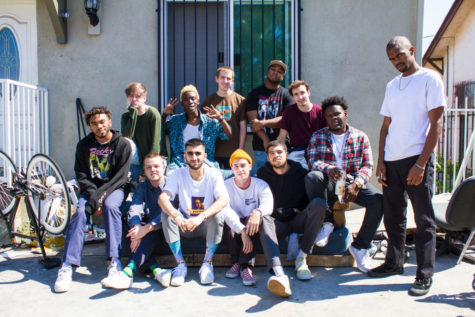 After dropping one mixtape, two albums, and more than ten videos, all in under two years; Brockhampton decided to top it all by going on their first headlining tour. The boyband's tour was highly anticipated by fans and listeners alike based off previous performances at festivals such as Lalapalooza, Camp Flognaw, and others. At these festivals, the band was immensely commended for the energy and passion they brought to their performances, each member bringing something the others couldn't. So, undoubtedly, when they announced their first tour, tickets sold like wildfire. The whole tour sold out in under a week; with 40 plus shows in 22 states all over the US. Over each member's social media accounts, they all promised to deliver high intensity, fun concerts.
Throngs of fans rushed to buy tickets the day they came out, including me, then patiently waited for months, devouring videos from the tour, and relishing rising excitement. The many concerts I've attended didn't prepare me for the explosive enthusiasm of this performance at San Francisco's Social Hall last Sunday.
The divey Social Hall has enough room for a bar, 400 fans, and a stage–walking in, my mind blew. An hour and half early apparently didn't secure a sweet spot. We joined the exciting, chattering crowd, all laughing and talking about why they love this band. What's the "it" factor that so many bands lack? Brockhampton is unique: their beats are unconventional, lyrics controversial at times, and hooks without a doubt the best in the game at the moment. The group's song, JUNKY, caused a lot of stir on social media because of the very aggressive first verse tackling topics like homophobia and racism in our society today. Known for creating a "buzz", they say what other musicians often won't. Seeing their diverse fanbase live thrilled me: people from all walks of life support this outspoken, powerful group. The crowd mingled an hour, and finally the lights dimmed.
Out walked Romil Hemnani, one of the group's producers and djs, who thanked everyone for coming, then: "Let's have fun SF!!!"and broke right into, "Lord Pretty Flacko Joyde 2" by A$AP Rocky. Everyone in the crowd jumped and rapped along as the intensity built for the set. Then out of nowhere, Roberto Ontinent, the group's web developer, approaches center stage surrounded in smoke and introduces the boy band. The group's song, "HEAT" is then performed. Singing along with the band, in awe as each member rapped their verse, just like the rest of the crowd. By the end of the concert, they had performed nearly all of the songs off their albums, SATURATION I and II, both released this past year.
The boy band brought an energy I never witnessed before at a concert. Stage diving, interacting with the audience, and putting their all into their performance. At no concert had I ever had the feeling that they were performing to just me but because Brockhampton was so involved with the crowd it felt as if they were. It was easy to tell that they weren't just doing it for the money or the fame, but that they were performing for their fans. One of the members, Kevin Abstract, went out of his way to pass out water bottles to fans in the crowd as it became very hot as the concert continued. The highlight for me was when Bearface, one of the group's producers and singers performed the songs, "WASTED" and "SUMMER". These songs, unlike the rest, are slow, low intensity, love songs. The whole crowd became silent as he sung, mesmerized by his voice. It was the perfect way to end an amazing show.
Brockhampton's tour was a resounding success with all fans. The group is expected to release the final album of the trilogy, SATURATION, this winter. They also plan to perform at many upcoming music festivals and concerts. Some of which include Camp Flognaw 2018 and The Governors Ball 2018. I would recommend Brockhampton to anyone who is a fan of Tyler the Creator, Jaden Smith, or rap music in general. If I had another chance to see them live I wouldn't pass up the chance. Personally, the concert was a 10/10, the best concert I've been to in my life. I look forward to seeing what's in-store for Brockhampton in the future and what they'll do with all their incoming success.