TL Boys Basketball Review
Boy's Basketball Overview
Terra Linda's basketball season did not end with the greatest record like most imagined. However, the future looks bright. With a record of 8-17, The Trojans only missed the MCAL playoffs by one spot, and would have made the Division 3 NCS playoffs if it weren't for the miscommunication over an opponent's division.
With six seniors graduating this year, the team will lose valuable experience, leadership, and talent. TJ Carhart, Corey Swenson, Gordon Gebauer, Joe Diaz, Dominic Bustillos, and Roddy Marshall, all played key roles in the season. Also, Diaz got accepted into the University of Chicago where he plans to play basketball next season. Although the season was full of its ups and downs, all of these men persevered through it. Although the trojans will say good bye to these fine teammates, the leadership of Coach Neil Caynan along with the underclassmen will lead to future success.
Next year, the team will bring back eight underclassmen, six juniors and two sophomores. Juniors, Josh Carvalho, Tavion Pickett, Blake Presson, Kevin Lechner, Matt Peters, and Dominic Martinez, all will play vital roles in the trojans success next year. Martinez and Peters both have been on the varsity squad since their Sophomore years. Sophomores Nick Cauz and Marcus Zeidan will play solid roles for the Trojans next season. Along with a couple of kids from JV the team will be strong.
The team has everything they need for future success, from players, to coaching, to support from a great fan base.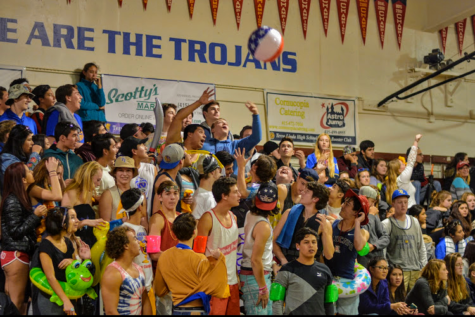 "The feeling of playing with a crowd like we have is exhilarating, you really want to perform for them." -Junior, Dominic Martinez. The fan base, which came to each game with elaborate themes, from white out to a pool party, created an amazing atmosphere for every game..
Many would ask, what exactly went wrong for the Trojans last season? One of the main causes of the disappointing season was the lack of motivation. Through most of the season, many players got down on themselves. No matter what though, they always got back up and fought their hardest. If a few things had gone the other way the Trojans' season could have took a turn for the better.
Although the team's record wasn't the best, there were some individual achievements to be proud of. Small Forward Roddy Marshall was a top three scorer in the league and Joe Diaz's great performance in the second half in the season earned him an opportunity to play college basketball. "Near the end of the season, Joe's play was so good and fun to watch that it was hard to believe." – Sophomore, Nick Cauz.
With Spring workouts starting up soon, the team looks to get stronger and improve as a unit. The Trojans will compete in multiple tournaments this summer including one at UCSB. Hopefully all of this hard work will show next season as the team tries to rebound from the disappointment of this year.