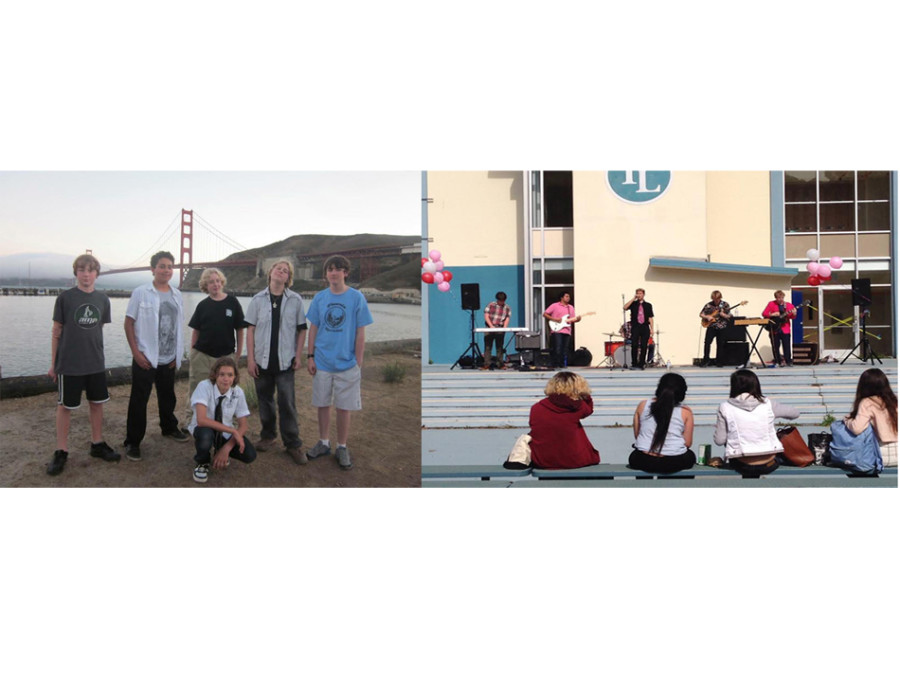 Formed in 2010, student band Phoenix Uprising has been playing at public and school events for six years. It all started in the summer of their 6th grade year. The boys had been friends throughout elementary school, and when they all discovered their mutual musical talent, a band was formed.
Flash forward to six years later, they are now all TL Seniors who are insanely talented and can get any crowd pumped up. They each have their role in the band, but of course they couldn't just stop at having one skill. Kodo Elder-Groebe (vocals) is a vocal master who sings Bass in an a Capella group called "Till Dawn." Noah Hornick (electric bass) also plays stand up bass, guitar, and piano. Ben Casto (drums) can play bongos and guitar. Ian Buchinsky (guitar) plays drums and bass as well. And Nick Brady (piano) can also play guitar and violin. They also all "dabble" in singing and playing the ukulele. The newest addition to the band is Zane Hornick, Noah's brother, who substitutes in when the guys need an extra player. He plays a variety of instruments including cello, piano, guitar, synthesizer, vocals, jazz guitar, electric bass, and he is also an impressive composer.
Though they mostly do covers, they have come up with some original music. However, they don't think any of it is good enough to play for the public. Instead they mostly just "jam" and improvise with their music, since they all know each other's style so well. Hornick describes this improvisation as "talking, only with instruments." They also do covers of rock songs like Lonely Boy by the Black Keys and Kodo's signature jazzy song called "Feeling Good" by Michael Buble.
Unfortunately, they will be splitting up and going to different colleges next year, so it is too hard to keep the band together. They will still continue to play music, though, and they said if they ever see each other in the future they will always be down to jam. Though the era of Pheonix Uprising is coming to an end, we will all remember the music, the friendship, and the good vibes they have brought to TL and to our community.

Tagged:
#pheonixuprising #jams #slaps #tl'sgottalent #seniors